Organisations now, more than ever, become vulnerable and have to take actions now to protect themselves, their reputation, employees and other stakeholders from bribery and corruption and associated risks. We invite you to watch this FREE webinar to identify how to protect your organisation from global corruption and to critically assess the applicability of several recent legislative guidelines to the proactive mitigation of corruption and bribery in corporate administration across the world. Based on Airbus and Rolls-Royce cases of multinational, multi-party bribery, the webinar will dive into the consequences of systemic inadequacy, confirming a paradigm shift in corporate oversight and network risk management.
Explore case studies, discuss and compare local, regional and global corporate compliance standards and legislations and receive your copy of the whitepaper, titled "Countering bribery and corruption in the public and private sectors" with this complimentary webinar.
DURING THIS WEBINAR YOU WILL…
Discuss how to ensure compliance, compare and analyse the spectrum of regulatory instruments and corporate compliance standards and legislation in order to establish a comparative basis for Anti-Corruption policies and practices
Assess the Airbus and Rolls-Royce cases studies to outline rules-based violations and identify compliance instruments for mitigating future replication
Identify a combination of institutional solution for managing and monitoring corporate compliance to prevent bribery and corruption in a modern enterprise
Get the copy of webinar content supporting and complimentary eBook
Engage in a live Q&A session
RECEIVE COMPLIMENTARY WHITEPAPER 
Watch the webinar today and download the FREE copy of the "Countering bribery and corruption in the public and private sectors" research study for your further knowledge and exploration".
This whitepaper explores the basis for rigorous and persistent risk assessment and monitoring by comparing the causes and legal justification for the prosecution of Airbus and Rolls-Royce, two global leaders in aircraft engineering. The primary aim of this study was to conduct investigative research into two recent case studies in order to demonstrate effective and adequate applications of Anti-Corruption procedures based on specific case-level outcomes.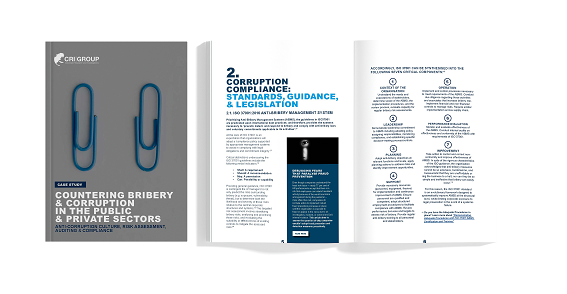 WHO SHOULD ATTEND?
Those who are involved in coordinating, developing, auditing and implementing anti-bribery anti-corruption compliance activities internally
Those who want to know more on how to ensure compliance, compare and analyse corporate compliance standards and legislations
Those who are involved in assessing organisation's internal and external supply chain and associated risks
Those who look for more information about anti-bribery anti-corruption solutions including ISO 37001 ABMS
Those who carry out business in or with the aviation industry
Target professionals might include but are not limited to top-level management positions and specialists having expertise in:
Management (including Risk, Quality, Health, Safety and Environment Management)
Compliance and Ethics
Legal Practises and Counseling
Internal Audit
Internal Control
Finance
Supply Chain
Procurement
Operations
INTENDED SECTORS
Airlines/Aviation
Supermarkets
Food Production
Investment Banking
Consumer Goods
Electrical/Electronic Manufacturing
Import and Export
Business Supplies & Equipment
Logistics and Supply Chain
Consumer Services
Information Technology & Services
Government Administration
Hospitality
Legal Services
Food & Beverages
Oil & Energy
Hospital & Health Care
Pharmaceuticals
Medical Devices
International Trade & Development
Defence & Space
Facilities Services
Outsourcing/Offshoring
Government Relations
Telecommunications
Information Services
Banking
Insurance
Financial Services
WEBINAR SPEAKERS
ZAFAR ANJUM | Group Chief Executive | Corporate Research and Investigations Limited and ABAC® Center of Excellence Limited
e: zanjum@crigroup.com | t: +44 (0)7588 454959
Zafar Anjum is founder and Group CEO at CRI Group, a global due diligence firm focused on fraud prevention and security among corporate clients, government agencies and industry groups, and its ABAC® Center of Excellence – an independent certification body, established to provide certification and training in internationally recognised ISO standards for risk, compliance, anti-bribery and anti-corruption management.
Zafar Anjum uses his extensive knowledge and expertise in creating stable and secure networks across challenging global markets. For organisations needing large project management, security, safeguard and real-time compliance applications, Zafar Anjum is the assurance expert of choice for industry professionals.
ORGANISERS
Anti-Bribery Anti-Corruption (ABAC®) Center of Excellence – an independent certification body established for ISO 37001:2016 ABMS, and powered by CRI Group. The Center provides ISO 37001 certification services, accredited by the Emirates International Accreditation Centre (EIAC) and The United Kingdom Accreditation Service (UKAS). ABAC® trusted experts have years of hands-on and business experience – they bring the subject matter to life with relevant and contemporary examples.
Based in London, CRI Group works with companies across the Americas, Europe, Africa, Middle East and Asia-Pacific as a one-stop international Risk Management, Employee Background Screening, Business Intelligence, Due Diligence, Compliance Solutions and other professional Investigative Research solutions provider. We have the largest proprietary network of background-screening analysts and investigators across the Middle East and Asia. Our global presence ensures that no matter how international your operations are we have the network needed to provide you with all you need, wherever you happen to be. CRI Group also holds BS 102000:2013 and BS 7858:2012 Certifications, is an HRO certified provider and partner with Oracle. Contact CRI Group today for further information on how CRI Group can help your business.
GET IN TOUCH
To request for further information about the webinar on anti-bribery anti-corruption solutions, kindly contact:
JOIN OUR MAILING LIST
Receive exclusive discounts, offers and upcoming agenda updates directly to your inbox.