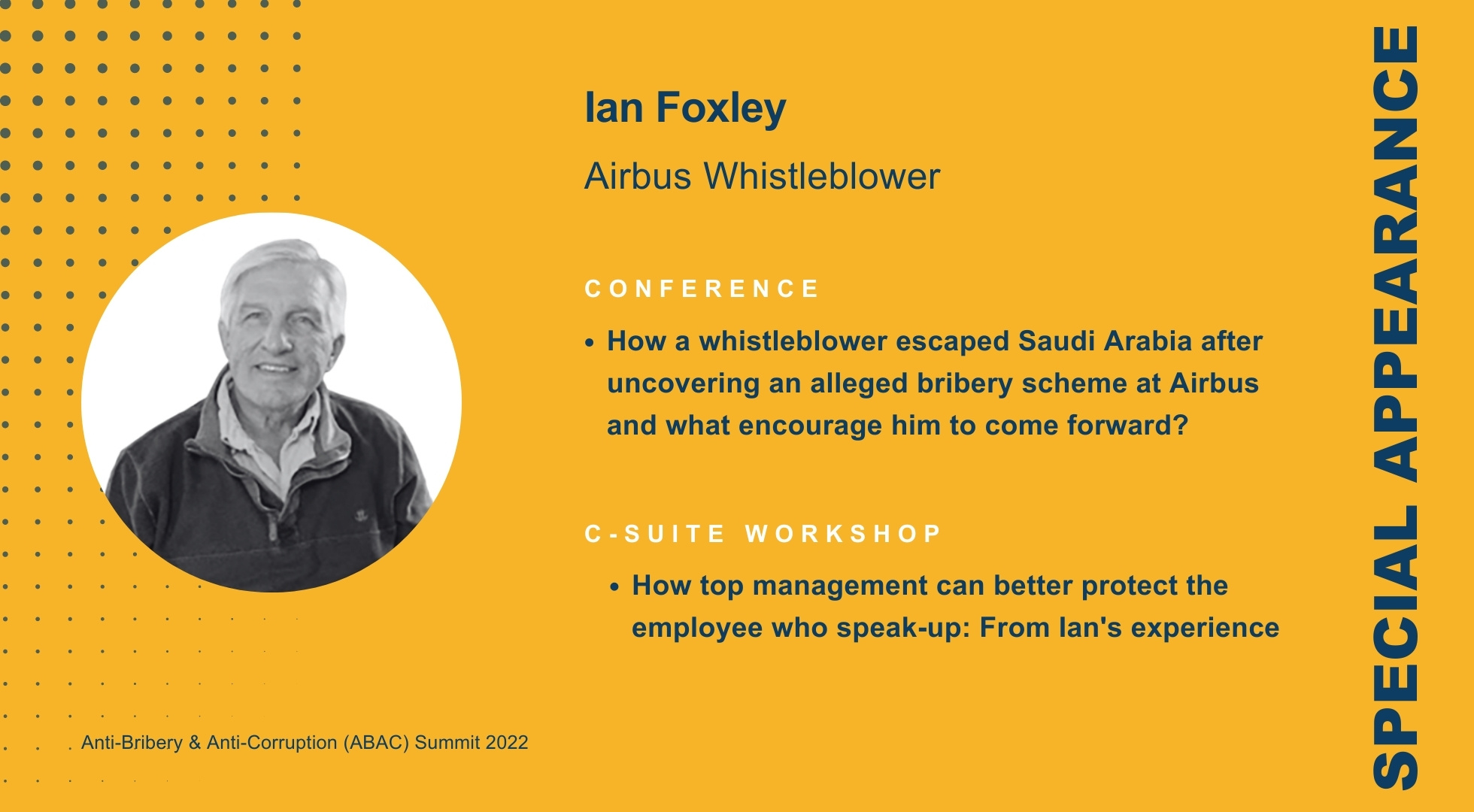 Ian Foxley, the Airbus Whistleblower | Speaker highlights (EVENT CANCELLED)
Meet Ian Foxley at the ABAC Summit 2022 who blow the whistle on Airbus corruption in 2010.

His actions resulted in criminal prosecutions, the complete overhaul of the Airbus Group Senior Management Team, and the largest fine (£3.6 billion) ever imposed on a commercial company under a Deferred Prosecution Agreement in the world

GPT pleaded guilty in 2016, was fined £30. 2 million and has now ceased trading
Ian Foxley, the Airbus Whistleblower. Ian is a veteran with 24 years' service in the British Army where he commanded an arctic warfare troop, a parachute squadron, and a divisional communications regiment in Bosnia-Herzegovina as part of the United Nations (UN) Peacekeeping mission and Implementation Force. He was a lecturer at the Army Command and Staff College and spent two years in counter-terrorism and a further two years on secondment to the Australian Army where he was the 'Pet Pom' in the Australian Army Rugby Team.
He became a whistleblower in December 2010 after discovering corruption in a £2 billion government defence procurement contracts whilst working as the Programme Director in GPT (Special Project Management) Limited, a wholly-owned subsidiary of Airbus Group. His actions resulted in criminal prosecutions, the complete overhaul of the Airbus Group Senior Management Team and the largest fine (£3.6 billion) ever imposed on a commercial company under a Deferred Prosecution Agreement in the world. GPT pleaded guilty in 2016, was fined £30. 2 million and has now ceased trading.
He co-founded Whistleblowers UK in 2012 as a whistleblower support interest group, and acted as Chairman until 2015, establishing the whistleblowing study and discussion programme at the Cambridge International Symposium on Economic Crime held annually in Jesus College, Cambridge University. In May 2021, he founded Parrhesia Inc, a charity focused on the practice, protection, and promotion of the human rights of whistleblowers in the UK, by producing high-level research that can be used by practitioners and policymakers alike.
He has contributed and coordinated responses to national consultations (Parliamentary Commission on Banking Standards (PCOBS), the BIS Consultation Whistleblowing Call for Evidence, the Armed Forces (Service Complaints and Financial Assistance) Act 2015, PCAW's Whistleblowing Commission, the Independent Review of Whistleblowing in the NHS (Freedom to Speak Up), the Home Office Review of the UK Anti-Corruption Strategy, and the Independent Review of the Financial Reporting Council.
He is a member of the British Standards Institute (BSI) Standards Committee Panel on Whistleblowing which developed the ISO 37002 on whistleblowing management systems and is a research panel advisory member for the ESRC research project on 'Post-disclosure Survival Strategies: Transforming whistleblower experiences'.
He is currently completing his research PhD thesis at the University of York on the topic of 'A political sociology of Whistleblowing – An empirical examination of the reasons why people do NOT speak up using a case study of the Saudi Arabian National Guard Communications (SANGCOM) Project in which he was the whistleblower. He lives in Sheriff Hutton, North Yorkshire, England and is married to Emma. They have three grown children who are well dispersed around the world in London, Bermuda and New Zealand.
ABAC Summit 2022
The third annual Anti-Bribery and Anti-Corruption (ABAC) Summit organised by the ABAC® Center of Excellence embrace the theme of Managing Governance, Anti-bribery, Whistleblowing, Compliance and Risk Effectively!
The two-day event comprises the conference and networking dinner on the first day and a workshop on the second day is a must-attend event for anyone working in anti-bribery and anti-corruption, compliance, integrity and governance, due diligence, risk management and anti-fraud such as CEOs, CFOs, Chief Legal Officers, Chief Compliance Officers, Chief Human Resource, In house Counsels, Compliance Managers, Head of HR, Lawyers and Auditors, Heads of Procurement and other officers responsible for risk, compliance and anti-bribery.
ABAC SUMMIT
For further details about this event, please contact our regional team below:
Tony Wu
Nurul Damia
ABAC®-M was created to educate, equip and support the world's leading business organisations with the latest in best-practice due diligence processes and procedures, providing world-class anti-bribery and anti-corruption, compliance and risk management solutions to organisations seeking to validate or expand their existing compliance frameworks to maintain a competitive edge in the world marketplace.
Build trust. Ensure compliance.
ABAC® Center of Excellence is an independent certification body, powered by CRI Group. ABAC® offers a complete suite of services and solutions designed to educate, equip and support the world's leading business organisations with the latest best-in-practice risk and performance assessments, systems improvement and standards certification. ABAC® programs protect your organisation from damaging litigation and safeguard your business in the global marketplace by providing certification and training in internationally recognised ISO standards, such as ISO 37301 Compliance Management Systems, ISO 31000 Risk Management Systems, ISO 37001 Anti-Bribery Management Systems, ISO 37000 Governance of Organisations and ISO 37002 Whistleblowing Management Systems. Its ISO 37001 Certification services are accredited by the United Kingdom Accreditation Service (UKAS CB number: 10613), making it the leading certification body specialising in anti-bribery management.
ABAC® operates through its global network of certified ethics and compliance professionals, qualified auditors, financial and corporate investigators, certified fraud examiners, forensic analysts and accountants.