USE OF UKAS ACCREDITATION SYMBOL POLICY
Under UKAS accredited scheme, ABAC Certification Certified Clients are requested to ensure that they comply with the requirements set out in this Policy.
Certified Clients may:
Use the UKAS Accreditation Symbol only in conjunction with ABAC Certification Mark on the organization's Corporate Stationary e.g. letterheads, compliment slips, invoices, stationary and literature, Internal Walls and doors, Exhibition stands, website and its advertising, subject to UKAS's and ABAC Certification's conditions for use for the logos and symbols.
May use the ABAC Certification Mark and UKAS Accreditation Symbol for the scope mentioned on the Certificate. There should be clarity to the extent/ limitations of the scope which has been granted certification.
Certified Client may not:
Use the UKAS Accreditation Symbol and symbols on vehicles, packaging, promotional products, the exterior of buildings, or flags.
Use the UKAS Accreditation Symbol in isolation from ABAC Certification Mark.
Use the Marks, Logos and Symbols in a misleading manner that gives the impression that Certified Client is certified for items not within the scope of certification. This includes misleading advertising, websites etc. In case of limitation, there should be a clear disclaimer alongside Management System Certification Logo detailing the extent/limitation of certification- "Our ABMS (example) certification is limited to those activities described on the scope of our Certificate found here"
While reproducing UKAS Accreditation Symbol, the following requirements will be followed by the Certified Clients:
UKAS Accreditation Symbol may be reproduced in either black and white or if full color is used, it must be the closest possible match to the master. The Pantone color scheme is as under:
Gold = Pantone 872; Blue = Pantone Reflex Blue; Red = Pantone Warm Red; Green = Pantone 347
No other colors may be used.
The minimum height of UKAS Accreditation Symbol will be 20mm that makes all features of the UKAS Accreditation Symbol distinguishable.
UKAS Accreditation Symbol will be reproduced without distortion of its proportions and preserving the design. Only master version as obtained from ABAC Certification, including the rectangular frame, and must be used and not be modified in any way. While scaling for size, the proportions of the UKAS Accreditation Symbol must be maintained. Scanned copies, digital photos or photocopies will not be of enough resolution and may be in the wrong proportions.
The UKAS Accreditation Symbol will always be placed on the right-hand side of ABAC Certification Mark.
The size of the UKAS Accreditation Symbol shall be no more prominent that ABAC Certification Mark.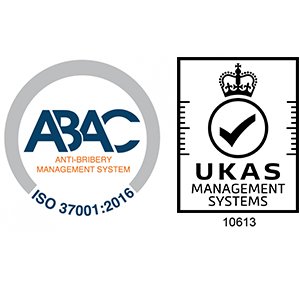 Management System Certification Mark (example only)
The minimum height for the complete rectangle is 30mm and maximum height for the complete rectangle is 45mm when used on stationery up to size A4. On larger items, the size may be increased proportionately.
The ABAC Certification Mark is used as an example of format. More information on use of ABAC Certification Mark is available here.
For further information please do not hesitate to contact ABAC Certification Scheme Manager Huma Khalid at huma.k@abacgroup.com
Signed
KANWAL ZAFAR
Managing Director ABAC Center of Excellence Limited
Doc# CRI-POL-006(c), Rev. 3.0, Date 01-03-2020
REVISION HISTORY OF THE DOCUMENT
Revision Status
Page No.
Description of Changes
Effective Date
Revision No.
Rev. Date
0

13-03-2017
All
First Issue
13-03-2017
1

04-10-2018
All
Name Change
04-10-2018
2
02-04-2019
All
Amended as per UKAS mandatory findings.
02-04-2019
3
01-03-2020
All
Terms updated
01-03-2020
NOTE:
Upon receipt of amendments, please
a) Remove and destroy the amended sheet(s) / page(s)
b) Replace it with superseded sheet(s) / page(s)
c) Check the controlled status
d) Inform any discrepancy observed to Management Representative