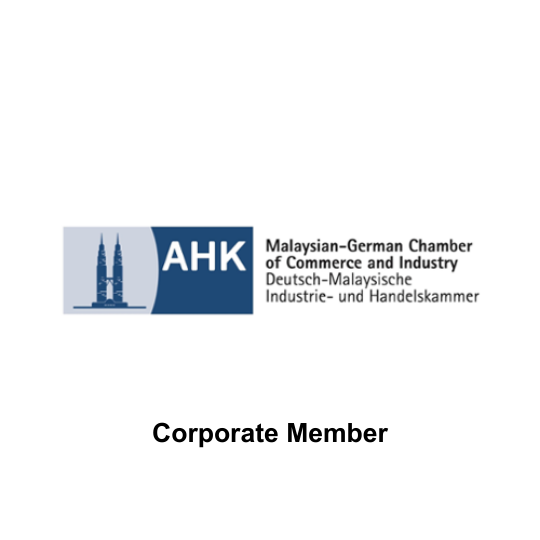 ABAC® Center of Excellence is an official member of the Malaysian-German Chamber of Commerce and Industry (MGCC). ABAC® are proud to be a part of such a chamber who represent themselves as a steadfast associate by your organisations side, who offer several organisations the chance to acquire additional advantages through their broad service portfolio. ABAC® and the MGCC unify their visions conceptualising themselves as service providers who execute the prospects of our members and client base, corresponding to their needs at a high-ranking, specialist level.
About the MGCC
First arriving in 1986 as a delegate office of the German Associations of Chambers of Industry and Commerce (DIHK), MGCC is now a modern and flexible service organization and a strong and reliable partner for its members and clients with a widespread, result-oriented range of services and a successful track record. MGCC is supported by the Federal Ministry of Economic Affairs and Energy based on a resolution of the German parliament, the Bundestag. The MGCC have been active in Malaysia since 1991, determining their role as a service provider, membership organisation and voice of the German industry in the country.
The Malaysian-German Chamber of Commerce and Industry (MGCC), or AHK Malaysia as it is known in Germany, is part of the world-wide network of German chambers with 140 offices in 92 countries and another 79 regional chambers in Germany with more than 3-million-member companies and businesses. Under the service brand "DEinternational" the chambers assist German companies with a wide range of services to establish themselves on foreign markets. MGCC is the Official Representative of German Industry and Trade in Malaysia with excellent relations to governments and its authorities, to business organizations and to industry both in Malaysia and in Germany.
German Chambers abroad fulfil three main tasks:
Official Representation of German Companies: The MGCC represents the interests of the German economy vis-à-vis politics and administration in the host country. This function commits the German chambers to neutrality and objectivity.
Member Organisations: For their approximately 51,000 member companies worldwide, the German chambers advocate and provide a network platform in bilateral trade. The tasks undertaken are to maintain, intensify and improve foreign trade relations between the host country and Germany.
Service Providers to Companies: Through the AHK service brand DEinternational, companies worldwide receive professional advice and support to successfully build and expand their overseas business operations forming a bridge between the markets.
What this means for ABAC®
ABAC® Center of Excellence is always on the hunt to develop our network and services to be able to expand our professional services into different geographies and industries. Being a member of the MGCC will aid ABAC® in permeating the foreign markets and establishing our credibility through our partnership with such a renowned Chamber. We are passionate about compliance and risk management here at ABAC® and the MGCC, as representatives of German industry and trade in Malaysia, will advocate for our needs with a amalgamated voice.
About ABAC®
ABAC® Center of Excellence, powered by CRI® Group, educates, equips and supports the world's leading business organisations with the latest best-in-practice risk assessments, performance assessments, systems improvement and standards certification.
ABAC® offers a complete suite of solutions designed to help organisations mitigate the internal and external risks associated with operating in multi-jurisdiction and multi-cultural environments while assisting in the development of frameworks for strategic compliance programs.
ABAC® Center of Excellence provides world-class certification services to organisations seeking to validate or expand their existing compliance frameworks to maintain a competitive edge in the world marketplace. Our experts audit your existing compliance and anti-bribery anti-corruption management systems to assess effectiveness and vulnerabilities, while ensuring your organisation complies with Internal Standards, FCPA rules, UK Bribery Act laws, Anti-Money Laundering regulations, and all other global, regional and local regulations.
"As the world's governing bodies gravitate to more stringent standards and efforts to prevent corruption, bribery and other unethical business practices, we stand ready to help companies meet and exceed those standards."

ZAFAR ANJUM

Group Chief Executive Officer, CRI Group