ABAC®, powered by CRI Group, is excited to be celebrating a four-year anniversary since its formation as an ISO accreditation service provider in 2016 . During past years, ABAC® expanded in different regions, achieved accreditation by the world's leading accreditation service provider, thoroughly audited and certified international clients and built relationships with local and regional organisations to strengthen the fight against bribery and corruption. ABAC® sincerely thanks to all clients, partners and global teams for being together in this journey and wishes for many more years of continuous partnerships.
See our timeline below of the newest achievements!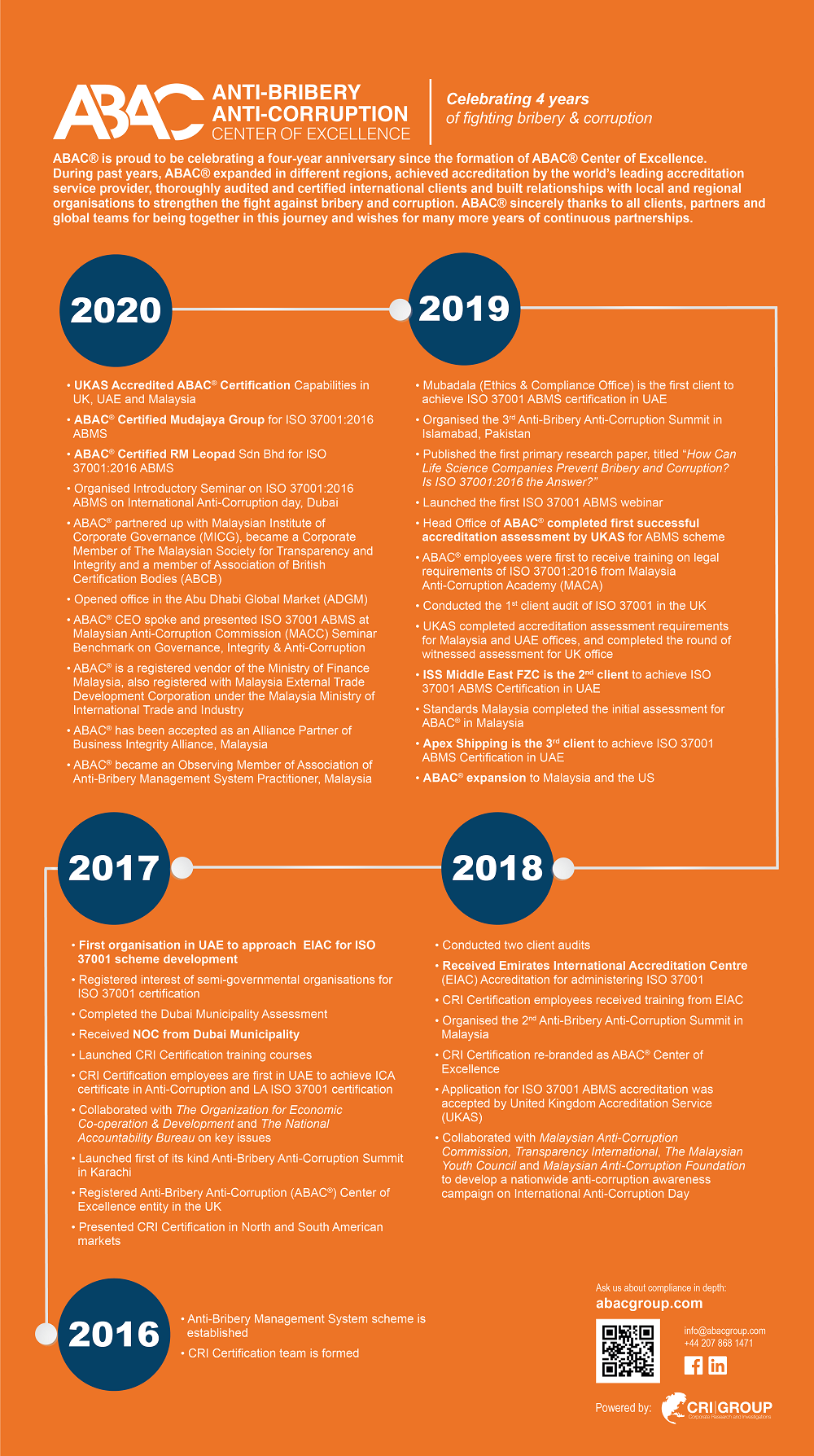 ABAC® Center of Excellence is an independent certification body powered by CRI Group. ABAC® offers a complete suite of services and solutions designed to educate, equip and support the world's leading business organisations with the latest best-in-practice risk & performance assessments, systems improvement & standards certification. Find out more about ABAC®!
ABAC® programs protect your organisation from damaging litigation & safeguard your business in the global marketplace by providing certification & training in internationally recognised ISO standards, such as ISO 37001 Anti-Bribery Management Systems, ISO 37301 Compliance Management Systems and ISO 31000 Risk Management Systems.
Based in London, CRI Group works with companies across the Americas, Europe, Africa, Middle East and Asia-Pacific as a one-stop international Risk Management, Employee Background Screening, Business Intelligence, Due Diligence, Compliance Solutions and other professional Investigative Research solutions provider. We have the largest proprietary network of background screening analysts and investigators across the Middle East and Asia. Our global presence ensures that no matter how international your operations are we have the network needed to provide you with all you need, wherever you happen to be. CRI Group also holds BS 102000:2013 and BS 7858:2012 Certifications, is an HRO certified provider and partner with Oracle. Contact CRI Group today for further information on how CRI Group can help your business.