In the occasion of the 4 years anniversary, ABAC® interviewed the key team members about their experience in the compliance industry, the biggest challenges they face, compliance and anti-bribery anti-corruption industry's future, and what does it mean personally for them to be a part of ABAC® team. Meet our ABAC® team and read on the interview below to hear the industry insights directly from our experts.
Meet the ABAC® team
Huma Khalid, Scheme Manager | Dubai, United Arab Emirates
Nor Hidaya, Office Manager | Kuala Lumpur, Malaysia
Omoye Osebor, Business Development Executive & Investigative Analyst | London, United Kingdom
Ayesha Syed, Lead Auditor | Dubai, United Arab Emirates
Q: In your opinion, what impact does ABAC® have on global business relations?
Huma Khalid: ABAC® has a significant impact on global business relations by increasing the business opportunities for both public and the non-public sector. As per OECD, implementation and enforcement of the recently developed regional and international anti-corruption standards have far-reaching consequences on investment, international ratings as well as on loan policies. Indeed, these standards impact countries' anti-corruption laws, rules and policies both repressive as well as preventive; they also call for accompanying measures in the private sector. While businesses look for business opportunities worldwide they increasingly need to evaluate their operations under a variety of criteria. The business will seek to generate wealth in the light of the domestic and foreign laws and regulations to which they must abide.
Nor Hidaya: According to Transparency International, 68% of the countries worldwide have serious corruption problems and not one single country in the world is corruption-free. Bribery is a global issue. In Malaysia particularly, it has become so alarming that it is done shamelessly without the feeling of fear or guilt. This appalling research clearly demonstrates that a proven, effective, and the internationally recognised system is desired to mitigate the risk and act of bribery. ABAC®'s expertise in supporting the ISO 37001:2016 ABMS certification as a solution to business organisations, help to instil the principles of integrity by way of advocacy and implementation of a structured system that prevents, addresses and reduces damages due to criminal activities arising from bribery and corruption. Regardless of the business nature, ABAC® offers a powerful business tool that can be adapted by any organisation, that brings positive impact to the economic growth and trust in businesses.
Omoye Osebor: ABAC® furthers business relations by promoting transparency and trust throughout organisations. We facilitate the implementation of certification and training allowing companies to create robust compliance programs and anti-bribery management systems.
Ayesha Syed: Yes, I agree! ABAC® has undoubtedly impacted the global market in a short time span. With its strong foundation in the UK and Gulf market, ABAC® has rendered certification services to construction, I.T, Investment, and shipping sector.
Q: From your perspective, what are the main challenges ABAC® faces?
Huma Khalid: Compliance, as a principle, is overlooked by organisations unless and until the regulators impose penalties for non-compliance to a requirement and take a strict follow-up on these regulatory requirements. ABAC® faces a challenge of breaking the bureaucratic culture but is able to instil good and ethical practice in organisations despite lack of support from regulators.
Nor Hidaya: Due to the economic downturn caused by the COVID-19 pandemic, organisations could continuously be facing with a liquidity crisis in the years ahead and may look for ways to shore up their financial liquidity for sustainability. Cost to obtain and manage ABMS certification, hiring the right calibre of employees or conducting employee background checks may be put on hold or no longer be their top priority for the time being due to financial constrains. This could expose the organisations to unethical misconduct, weaknesses, fraud, lack of governance and integrity whilst taking short cuts to win tenders for the purpose of meeting the financial targets.
Subsequently, during financial crises, organisations may elect for a certification body that offers rock-bottom price for the sake of obtaining certification without putting quality above all, this may force CBs to be operating at a loss. In some cases, anti-bribery and anti-corruption policies may only serve as documentary compliance for the purpose of meeting the law, proposal exercise or client requirements.  As a result, efforts to curb and intensify enforcement of anti-bribery laws may not be effective. This may further erode the loss of public trust in the government, organisations and the nation.
Omoye Osebor: From the business development perspective, our biggest challenge is our real commitment to communicating the 'why' and 'how' of compliance to businesses across all industries.
Ayesha Syed: It has always been challenging to create a culture of ethics in the corporate world in order to automate the entire framework of the anti-bribery management system. For this reason, our organisation has spread the message on various forums against corruption to educate companies to adopt best compliance practices.
Q: What does it mean personally to you to be a part of ABAC®?
Huma Khalid: I have worked at ABAC® for three years, and I am so happy to be part of a dynamic company who truly cares about employee well-being and career development. The CEO plays an exemplary role by working tirelessly to promote a compliance-oriented and anti-bribery culture across all regions and motivates both employees and the public to act ethically. Moreover, as a Scheme manager, I feel valued, heard, and my work achievements are appreciated by peers and management alike. In terms of career development, ABAC® has provided me with the required training to deliver on my role and heavily invests in key staff development.
Nor Hidaya: ABAC® has developed professional business support to global businesses and the government across the globe.  I'm proud to be part of the team and happy to grow with the company. Bribery and corruption in any form will damage the individual and business. By being with ABAC®, I jointly contribute to the company and nation in fighting these threats.
Ayesha Syed: Well! It's great to be a part of the ABAC® team. Working here brings new challenges and because of this reason I learn and excel.  I have a special attachment with ABAC® since I have seen it grow over the years from the beginning and wish to see more growth in the coming future.
Omoye Osebor: I agree! It's great, teamwork is paramount and we put ethics and value first.
Q: How do you see compliance industry shaping in the future?
Huma Khalid: The push is towards transparency and accountability. The compliance industry needs to meet the ever-changing regulatory requirements while dealing simultaneously with a vast range of other national and international issues. Compliance department will provide an overarching goal of guiding organisations through regulatory changes as well as safeguarding organisations from the implications of non-compliance.
Nor Hidaya: Compliance is a continuous process that requires businesses to assess their business ethics and governance. We are constantly reminded that 'Prevention is better than cure'. Enforcing a good compliance system, strong leadership and principles corporate culture will help to prevent violations of regulations, protect the organisation and minimise the risk of corruption. It's an on-going collective effort. Recently, Malaysia has moved up 10 spots to 51st position among 180 countries in the Transparency International (TI) Corruption Perceptions Index (CPI) for 2019.
Omoye Osebor: Organisations will place increasing importance on their compliance programs across the business, that promote efficiency and ethical practices within the culture of the business.
Ayesha Syed: I think that the future is more related to technology and automation. I can say this with affirmation that in future no organisation would be able to survive without proper compliance in place.
Q: Your wish for ABAC® Anniversary
Huma Khalid: I wish ABAC® a prosperous third anniversary and may ABAC® and its leadership continue to achieve milestones in years to come.
Nor Hidaya: For ABAC® to be a role model and outstanding certification body/training provider in the compliance industry. When we practice and strengthen the above concept within ourselves and our organisations, we contribute to the well-being of our future generation. Happy anniversary,  ABAC®!
Omoye Osebor: To continue our efforts in bringing the best service to our clients, work hard to anticipate their needs and share our expertise in new markets.
Ayesha Syed: I wish to see ABAC® as a pioneer in the compliance industry and that is what we all are striving for.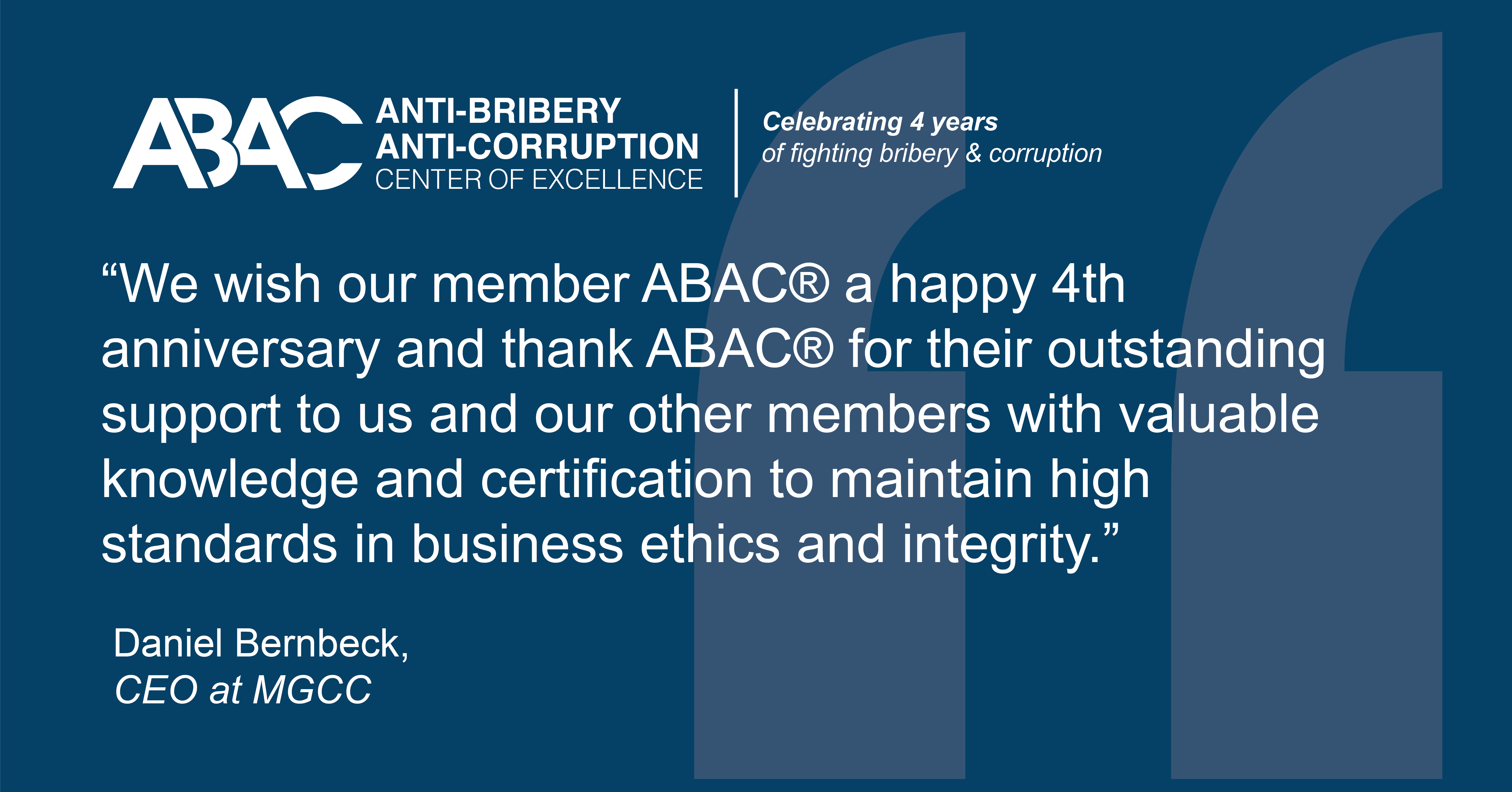 Q: If there is one thing organisations could do to improve their compliance strategies, what would it be?
Huma Khalid: Invest in employee training and development. All too often, organisations are not aware of the compliance risks they are facing due to lack of awareness about these issues. Lack of awareness translates into overlooking of these issues which then results in fines, losses and reputational damage.
Nor Hidaya: Innovation and technology investment. Leveraging technology to enhance an organisation's compliance strategies are key to transparencies and proficiencies. Business leaders and support team should also have specific financial investment for training in digital technology advancement for consistencies. Technology intervention and integration with the organisation's compliance strategies through smart investment and processes will improve the company's growth and success.
Omoye Osebor: The number one thing would be continuous monitoring and review of the policies already in place.
Ayesha Syed: The core of any compliance strategy is a commitment from every member who is directly or indirectly associated with the organisation. It's a job to be done by each of us, only then we all can benefit from firm's compliance framework.
ABAC®, powered by CRI Group, is excited to be celebrating a four-year anniversary since the formation of the ABAC® Center of Excellence.
During past years, ABAC® expanded in different regions, achieved accreditation by the world's leading accreditation service provider, thoroughly audited and certified international clients and built relationships with local and regional organisations to strengthen the fight against bribery and corruption. ABAC® sincerely thanks to all clients, partners and global teams for being together in this journey and wishes for many more years of continuous partnerships.
ABAC® Center of Excellence is an independent certification body powered by CRI Group. ABAC® offers a complete suite of services and solutions designed to educate, equip and support the world's leading business organisations with the latest best-in-practice risk & performance assessments, systems improvement & standards certification. Find out more about ABAC®!
ABAC® programs protect your organisation from damaging litigation & safeguard your business in the global marketplace by providing certification & training in internationally recognised ISO standards, such as ISO 37001 Anti-Bribery Management Systems, ISO 19600 Compliance Management Systems and ISO 31000 Risk Management Systems.
Based in London, CRI Group works with companies across the Americas, Europe, Africa, Middle East and Asia-Pacific as a one-stop international Risk Management, Employee Background Screening, Business Intelligence, Due Diligence, Compliance Solutions and other professional Investigative Research solutions provider. We have the largest proprietary network of background-screening analysts and investigators across the Middle East and Asia. Our global presence ensures that no matter how international your operations are we have the network needed to provide you with all you need, wherever you happen to be. CRI Group also holds BS 102000:2013 and BS 7858:2012 Certifications, is an HRO certified provider and partner with Oracle. Contact CRI Group today for further information on how CRI Group can help your business.