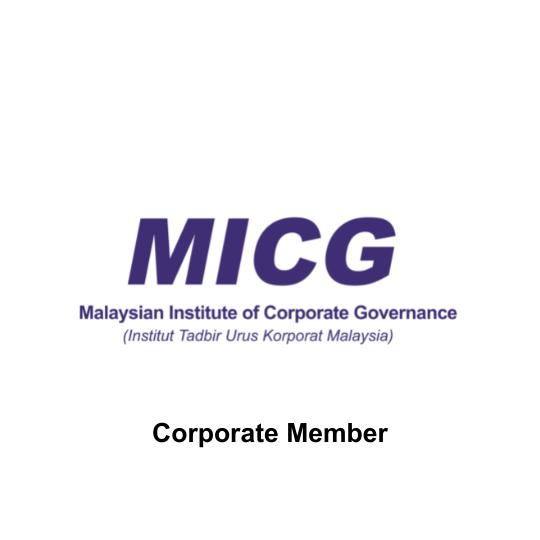 Malaysian Institute of Corporate Governance (MICG)
ABAC® is a Corporate Member of the Malaysian Institute of Corporate Governance (MICG).  MICG was founded in 1998 to define and promote corporate governance best practices in Malaysia.
"We strongly support MICG's vision and mission, where its principal activities are to promote and encourage corporate governance development, provide education and training for the benefit of its members and other interested institutions or bodies in Malaysia", Anjum said.
"ABAC® is proud to be the Corporate Member with MICG, in their efforts to bring needed education, training and best practices for organisations in both the private and public sectors."
Other ABAC® accreditations and memberships
At ABAC® Center of Excellence Limited, we are affiliated with leading certification and accreditation bodies around the world.
These affiliations and accreditations help demonstrate the high level of experience, knowledge and credibility we provide in anti-bribery, risk and compliance management to our clients on a daily basis. That's why ABAC® has achieved essential accreditations from the United Kingdom Accreditation Service (UKAS), Emirates International Accreditation Center (EIAC) and membership in the Association of British Certification Bodies (ABCB).
ABAC® is also a Corporate Member with the Malaysian Institute of Corporate Governance (MICG) and a Corporate Member of Transparency International Malaysia (TI-M).
ABAC® was established in 2016 by CRI® Group, a global leader in risk, compliance and anti-bribery management systems. ABAC® was launched to provide certification and online training in anti-bribery and anti-corruption risk management and compliance for organisations worldwide.
CRI® Group and ABAC® CEO Zafar I. Anjum, CFE, said that ABAC® is proud to be accredited by, and affiliated with, international accreditation bodies.
"Our engagement with high-profile bodies like EIAC, ABCB and UKAS demonstrate the effectiveness of our ISO 37001:2016 Anti-Bribery Management System certification and training, along with our ISO 37301, ISO 37002 certifications and other programs," Anjum said.
"As the world's governing bodies gravitate to more stringent standards and efforts to prevent corruption, bribery and other unethical business practices, we stand ready to help companies meet and exceed those standards."

ZAFAR ANJUM

Group Chief Executive Officer, CRI Group