Governments around the world are responding to the need to enact new legislation to fight corruption. Until the last 20 years or so, most laws and regulations were relatively weak, other than the U.S. Foreign Corrupt Practices Act (FCPA). However, a growing intolerance for corruption and increased outrage at high-profile cases has changed the landscape considerably, spurring the more recent U.K. Bribery Act (UKBA) 2010 and other similar stringent Anti-Bribery and Anti-Corruption (ABAC) laws.
Bribery and corruption can cause extreme harm to organisations and economies, causing distrust, financial loss, criminal consequences and loss of reputation. As we see more and more countries promulgating new and more sophisticated anti–bribery and corruption legislation as well as aggressive enforcement by government regulators we know it can get complicated to understand an keep tracking of all of this information.
After the huge success and popularity of our short three-part article series: "ABAC Laws and Regulations Around the World" Part 1, Part 2 and Part 3 we are proud to announce the launch of this playbook. ABAC Laws and Regulations Around the World Playbook goes into each of the laws and regulations and discusses the importance, mechanisms and action points to each.
Our Playbook is your complete guide to understand each law and regulation related to Anti-Bribery and Anti-Corruption practices and more. A comprehensive 28 pages guide that include the following laws and regulations:
The United Nations Convention Against Corruption (UNCAC)
European Union Anti-Corruption Conventions
United Kingdom – U.K. Bribery Act (UKBA) 2010
France – SAPIN II
Germany – Anti-Corruption laws
Russia Federal Anti-Corruption Law
China Anti-Corruption Laws
Malaysia Anti-Corruption Corporate Liability Provisions (MACC)
Brazil – Anti-Corruption Act (Clean Company Act)
United States – Foreign Corrupt Practices Act (FCPA)
Canada Corruption of Foreign Public Officials Act (CFPOA)
African Union Convention on Preventing and Combating Corruption (AU)
Download ABAC Laws & Regulations Around The World Playbook now!
Stop Bribery and Corruption Today – with ISO 37001 Certification!
Corruption and bribery affects any organisation, large or small, public or not-for-profit. It has the potential to cause severe harm to your business, including financial loss, dire legal consequences, damage to your brand, company's reputation and sustainable development. Therefore anti-bribery needs to be managed correctly and effectively.
ISO has developed a standard – ISO 37001:2016 ABMS – to help organisations promote an ethical business culture. "Designed to help your organisation implement an anti-bribery management system (ABMS), and/or enhance the controls you currently have. It helps to reduce the risk of bribery [and corruption] occurring and can demonstrate to your stakeholders that you have put in place internationally recognised good-practice anti-bribery [and anti-corruption] controls".
Learn more on ISO 37001
Get a FREE quote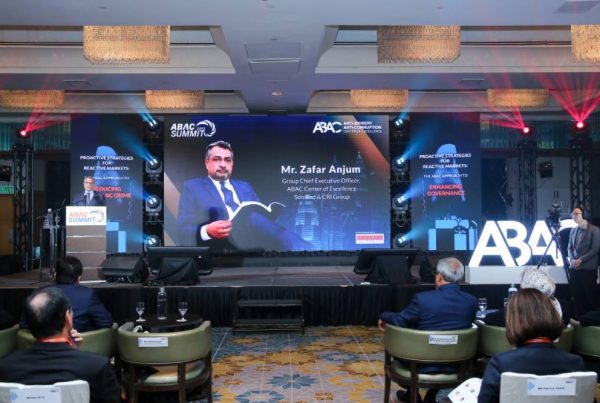 The ABAC Summit 2023 was a resounding success, bringing together industry leaders, experts, thinkers, and delegates from across the globe, both from the government and private multi-national organizations to promote…
Stay connected for more on local and regional compliance or anti-bribery and anti-corruption laws and regulations by signing up to our newsletter!
Get industry news delivered to your inbox. Sign up to our newsletter.
About ABAC™ Center of Excellence
ABAC™ is an independent certification body powered by CRI Group™. ABAC™ Center of Excellence offers a complete suite of services and solutions designed to educate, equip & support the world's leading business organisations with the latest best-in-practice risk & performance assessments, systems improvement & standards certification.
ABAC™ programs protect your organisation from damaging litigation & safeguard your business in the global marketplace by providing certification & training in internationally recognised ISO standards, such as ISO 37001 Anti-Bribery Management Systems, ISO 19600 Compliance Management Systems and ISO 31000 Risk Management Systems.
Let's talk and discuss your anti-bribery, risk and compliance needs!