ABAC® Group announced that Mubadala Petroleum, a leading international oil and gas company, has successfully achieved ISO 37001 Anti-Bribery Management Systems certification.
The announcement was made by Zafar Anjum, CEO at Corporate Research and Investigations Limited. "We are honoured to certify Mubadala Petroleum for ISO 37001, as the ethical and transparent front-runner in the oil and gas industry."
Mubadala Petroleum is a leading international, upstream oil and gas exploration and production company that manages assets and operations spanning ten countries globally, with a primary geographic focus on the Middle East and North Africa, Russia and Southeast Asia.
The ISO 37001 certification was achieved through ABAC Certification, a component of CRI® Group's Anti Bribery and Anti-Corruption (ABAC®) Center of Excellence, accredited by the Emirates International Accreditation Center (EIAC) for administering ISO 37001 ABMS certification.
ABAC®'s Scheme Manager, Huma Khalid added: "Mubadala Petroleum was very motivated to achieve the globally recognised certification to prove their commitment to the highest integrity and accountability levels across the world. It is an honour to certify Mubadala Petroleum in the UAE in numerous business areas including but not limited to ABC ethics & compliance, ABC risk assessment and management, business management, investigations and reporting, due diligence and employment procedures. It is encouraging that an exponential number of worldwide organisations start deciding to not only commit to their sustainable business commitments but also achieve certification to promote transparency inside and outside their organisations."
Contact ABAC® Center of Excellence
For Scheme or Technical queries: Huma Khalid | huma.k@ABACgroup.com | +44 777 652 4355, +971 521 042 433 | Dubai, United Arab Emirates
For Marketing queries: Soraia Antunes | soraia.antunes@crigroup.com | +4479 686 15127 | London, UK
ABAC® Center of Excellence is an independent certification body powered by CRI Group. ABAC® offers a complete suite of services and solutions designed to educate, equip and support the world's leading business organisations with the latest best-in-practice risk & performance assessments, systems improvement & standards certification. Find out more about ABAC®!
ABAC® programs protect your organisation from damaging litigation & safeguard your business in the global marketplace by providing certification & training in internationally recognised ISO standards, such as ISO 37001 Anti-Bribery Management Systems, ISO 37301 Compliance Management Systems and ISO 31000 Risk Management Systems.
Based in London, CRI Group works with companies across the Americas, Europe, Africa, Middle East and Asia-Pacific as a one-stop international Risk Management, Employee Background Screening, Business Intelligence, Due Diligence, Compliance Solutions and other professional Investigative Research solutions provider. We have the largest proprietary network of background-screening analysts and investigators across the Middle East and Asia. Our global presence ensures that no matter how international your operations are we have the network needed to provide you with all you need, wherever you happen to be. CRI Group also holds BS 102000:2013 and BS 7858:2012 Certifications, is an HRO certified provider and partner with Oracle. Contact CRI Group today for further information on how CRI Group can help your business.
Since 1990, CRI® Group (Corporate Research and Investigations Limited) has safeguarded businesses from fraud and corruption, providing insurance fraud investigations, employee background screening, investigative due diligence, third-party risk management, compliance, and other professional investigative research services.
Corruption and bribery affects any organisation, large or small, public or not-for-profit. It has the potential to cause severe harm to your business, including financial loss, dire legal consequences, damage to your brand, company's reputation and sustainable development. Therefore anti-bribery needs to be managed correctly and effectively.
ISO has developed a standard – ISO 37001:2016 ABMS – to help organisations promote an ethical business culture. "Designed to help your organisation implement an anti-bribery management system (ABMS), and/or enhance the controls you currently have. It helps to reduce the risk of bribery [and corruption] occurring and can demonstrate to your stakeholders that you have put in place internationally recognised good-practice anti-bribery [and anti-corruption] controls".
ISO 37001 CERTIFICATION
You thought might be interested in…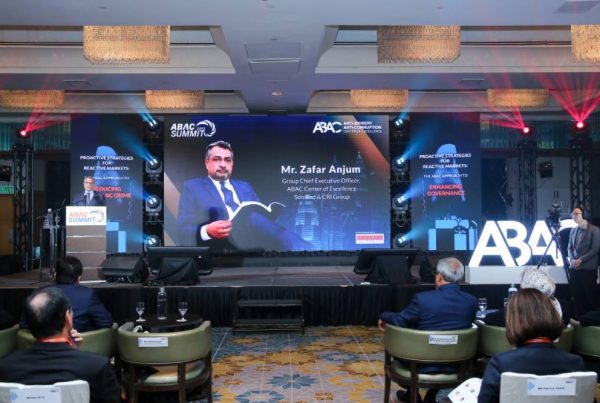 The ABAC Summit 2023 was a resounding success, bringing together industry leaders, experts, thinkers, and delegates from across the globe, both from the government and private multi-national organizations to promote…